Shoreline News
updated 9/18/2021
covid update (9/10/21)
Dear Shoreline Family,
While meeting with a discipleship partner recently, we were reminded the saints of old are not remarkably different from the saints of today. We saw this in the fourth chapter of Paul's letter to the Philippians, where Paul confronted two followers of Jesus who were having a conflict. While they were not in agreement over some unrecorded issue, Paul urged the two in conflict towards agreeing on what was of greater importance. He wrote to them, "…agree in the Lord."
As San Luis Obispo County has mandated masks be worn for all indoor meetings, there is plenty of opportunity for disagreement, even among followers of Christ. I urge us to love God and love others. I urge us to remember the one thing we all have in unity is Jesus. I urge us to agree in the Lord even if we do not see eye to eye on issues regarding masks. If we are followers of Christ, our unity in Jesus is greater than any differences.
At the Great Shoreline Picnic, I announced the plan the Shoreline elders believe will honor Jesus and His church related to this mandate. Since we can not over communicate, it is worth repeating the three options.
Shoreline's 9 AM service will be indoors with masks required. Since we know not everyone desires masks, be encouraged to bring a chair and enjoy the service outside. There will be a large screen broadcasting the whole service to our lawn.
Shoreline's 10:30 AM service will be mostly on the lawn to minister to those who do not desire masks. Please bring a chair. Unfortunately, we do not have the capability to bring the worship team outside, at least regularly, so musical worship will remain inside and will be broadcast out on the screen.
Please know, as some of our methods are changing, our love for Jesus and love for others is not changing. We will worship and find our joy in Him. We will be united in Him as we love each other.
Please be in prayer for Shoreline, but also for our community as it adjusts to these new mandates. Please particularly pray for our students, teachers, health-care and other essential workers. Finally, pray for our unity in the goodness of our Lord who gave up all, so we can come to know God (2 Corinthians 8:9).
Blessings,
Pastor Ed
THIS sunday at shoreline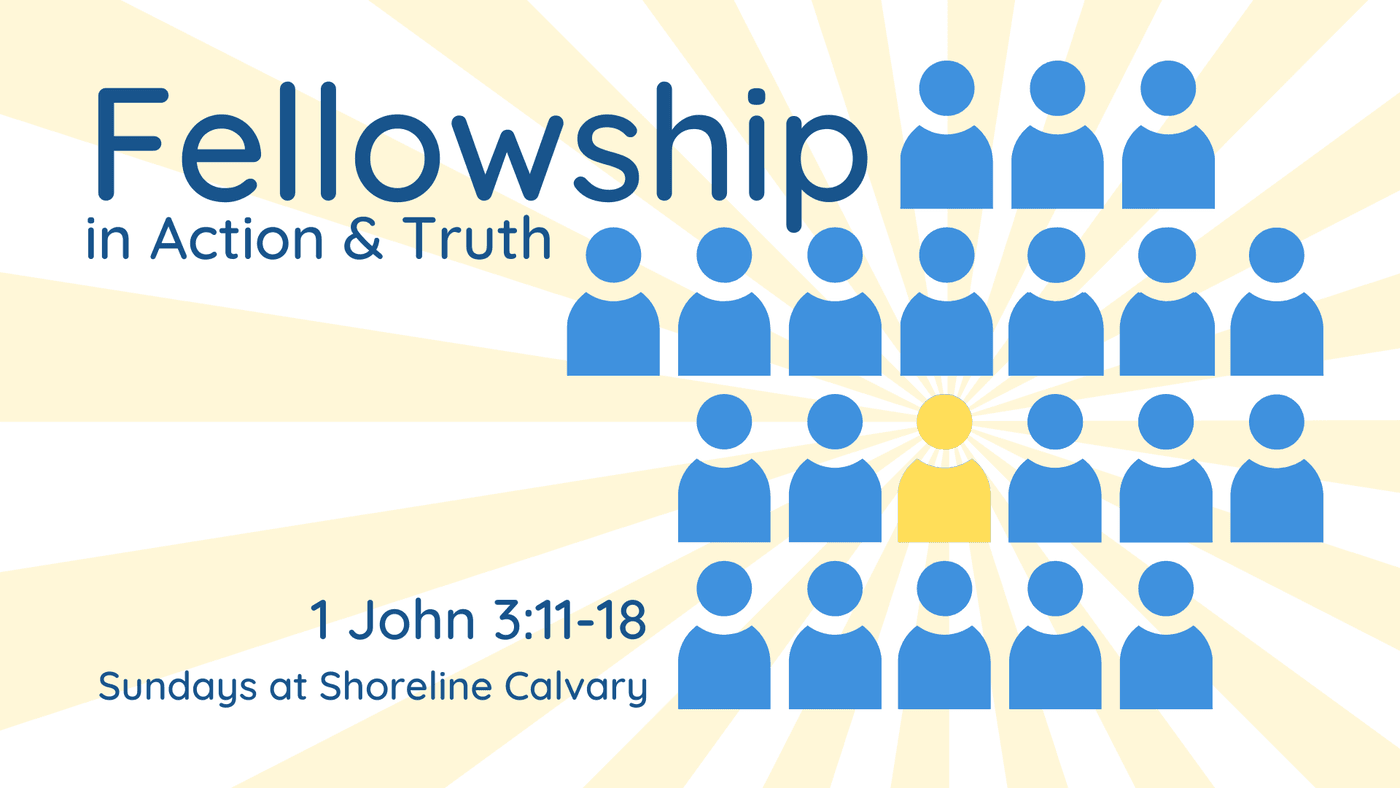 Fellowship in Action and Truth - 1 John 3:11-18 - Pastor Ed Compean
9 & 10:30 am - see above for details
9 am - Livestream available on Facebook and YouTube .
Get the service guide for announcements and message notes.
announcements
Women's Joyful Life Bible Study starts Revelation this Tuesday, 9/21 at 10 am and 6 pm in the Blue Room at Shoreline.
The next Ladies' TGIF is on 9/24. TGIF is a time of fellowship and encouragement for the women of Shoreline and their friends.
Love One Another - Our next Zoom meeting for prayer and planning is Wednesday, October 13 at 6:30 pm. Bring your ideas of ways we can bless people at Shoreline and in our community. If you'd like more information, join the Love One Another Group.
Ladies' Book Club - Our book for September is Misreading Scripture with Western Eyes: Removing Cultural Blinders to Better Understand the Bible by E. Randolph Richards and Brandon J. O'Brien. It's available from the library through Hoopla as an e-book. And from Amazon. We'll be gathering to discuss it on Thursday, September 23, at 6:30 pm via Zoom. Join the group to get the link.
See the Community Board for information about...
40 Days for Life from 9/22 to 10/31
Blood Drive at Shoreline on 10/17